Een evenement dat ongekend is voor de automobielsector en de hoogste internationale erkenning verdient: Maserati wint de Grand Prix Best Event Awards World 2020.
De show "MMXX: Time to be Audacious", die vorig jaar in september het begin van het nieuw tijdperk van het merk markeerde met de wereldpremière van de nieuwe MC20-supercar, ontving de hoofdprijs op het Bea World Festival, de wereldwijde wedstrijd die de beste evenementen van het jaar selecteert.
"MMXX: Time to be Audacious" werd bedacht en geproduceerd voor Maserati door FeelRouge Worldwide Shows, dat de prijs in ontvangst nam voor het beste evenementenbureau van het jaar. "Het merk heeft een versnelling hoger geschakeld en een nieuw tijdperk ingeluid", zei Davide Grasso, CEO van Maserati. "En we hebben het gedaan in echte Maserati-stijl: met lef, constant voorwaarts streven en gefocust op ons doel. We hebben een evenement gecreëerd dat ongekend was voor onze branche, een echte merkervaring die de moed van de Maserati-familie en de waarden van het merk belichaamde."
"MMXX: Time to be Audacious"
Het evenement was drieledig: een liveshow, een virtuele ervaring en een echte reis naar Maserati's identiteit met belangrijke Modena-locaties. Het concept was een unieke merkervaring, een echte primeur voor de automobielsector.
Op woensdag 19 september was de show zowel echt, met ongeveer 500 gasten op het Modena Circuit, als virtueel te beleven. Op afstand begeleid door twee gelijktijdige spiegelevenementen in New York en Tokio.
De show, die zijn boeiende en opwindende verhaal in spannende termen vertelde, was bedoeld om te inspireren en om conventionele feest- en productlanceringsformats te vermijden. Het was een echte onderdompeling in de ziel van het merk.
De snelle show dompelde de toeschouwer onder in een stroom van verschillende segmenten, waaronder live optredens, anamorfische beelden en augmented reality, geprojecteerd op een monumentaal scherm van in totaal 630 m2. De bijna filmische sequentie leidde de gasten, zowel aanwezig op het circuit als via livestreaming, naar een nieuwe, eigentijdse visie van Maserati, die de weg bereidde voor het hoogtepunt: de wereldpremière van de nieuwe MC20.
De volgende dag werd de hele stad Modena omgetoverd tot het podium voor dit onderscheidende merkcommunicatieconcept. De historische Viale Ciro Menotti-fabriek en het Maserati Innovation Lab, het anatomische theater van de stad en de belangrijkste pleinen, werden de podia van een visionaire vertelling die het verleden, het heden en de toekomst van Maserati omarmt.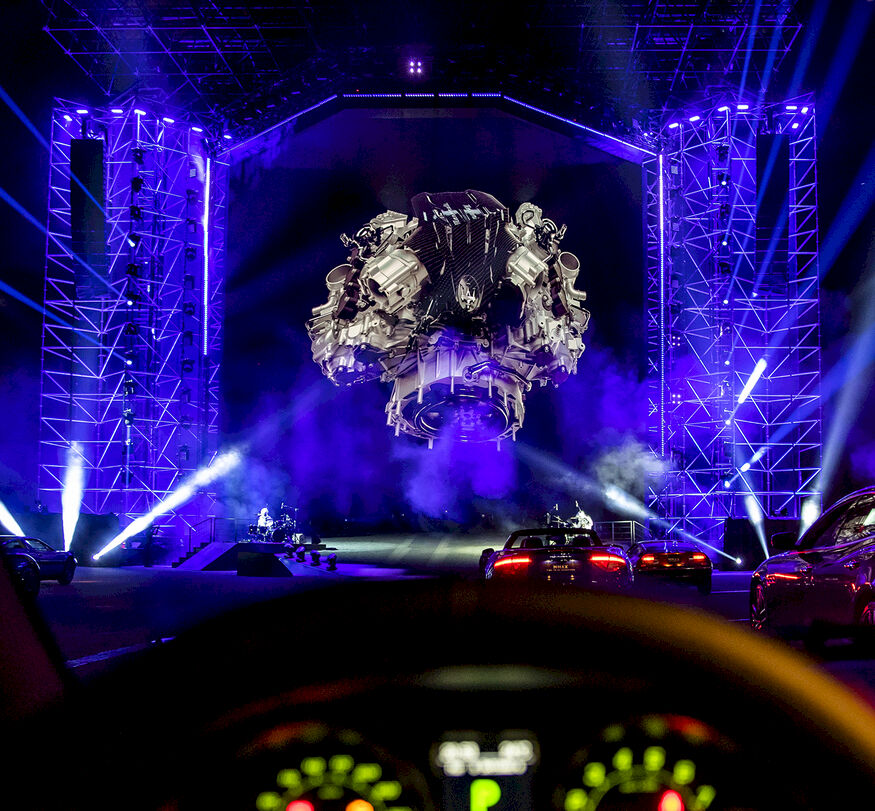 Een overzicht van alle andere winnaars van de BEA World Event Awards vindt u hieronder:
BEA World Grand Prix
1st - FEELROUGE WORLDWIDE SHOWS - MASERATI MMXX WORLD PREMIERE MC20 - Italy
2nd - SKUDRAS METROPOLE - Mirror house above the river - Latvia
3rd - THE DIRECTORATE OF THE SAINT PETERSBURG INTERNATIONAL CULTURAL FORUM - The 2019 Theatre Olympics in Russia - Russia
Iconic Event Award
1st - 9PM EVENTS AND ENTERTAINMENT - Anything is Possible - Rise in Dubai 2019 -   Italy
B2B Digital/Hybrid Event
1st - NEXT GROUP - Landing on Earth. Everyday. - Italy
2nd - DRPG - DRPG BIGtalk World - United Kingdom
3rd - NINETYNINE SRL - IMAGINE EVERYTHING - The first virtual Disney Media & Partnership Upfront -   Italy
B2C Digital/Hybrid Event
1st - XSAGA FESTIVALS - Uitmarkt - Netherlands
2nd - FEELROUGE WORLDWIDE SHOWS - MASERATI MMXX WORLD PREMIERE MC20 - Italy
3rd - WINK - BUDX Amsterdam - Netherlands
B2I Digital/Hybrid Event
1st - CREATIVE PRO - TFROMHOME - Slovakia
2nd - HABEGGER / MEDIA APPARAT / FLAVE - RINGANA virtual Convention 2020 - Austria
3rd - THE LEGO GROUP AND EVENT ARENA - 2021 LEGO REEMEA Sales & Marketing Conference - Czech Republic
B2I Event
1st - LUKA - Behind the spotlight - Latvia
2nd - XSAGA - KLM100 Experience - Netherlands
3rd - MILESTONE EVENTS - To the Red Moon - Estonia
Best B2B Event (> €500.000)
1st - 9PM EVENTS AND ENTERTAINMENT - Anything is Possible - Rise in Dubai 2019 - Italy
2nd - SYNAPSY - WE NEVER STOP - Italy
3rd - GATTINONI GROUP - HAIR IC.ONE 2019 - Italy
Best B2B Event (< €500.000)
1st - ALPHAOMEGA SRL - HEROES. WEAR YOUR BEST - Italy
2nd - GRUPO ABSOLUTE - Turespaña Pavilion - Fitur 2020 - Spain
3rd - PERFORMANCE MARKETING GROUP, INC - Yanfeng Automotive Interiors Tour - United States of America
Best B2C Event (> €500.000)
1st - CHEIL GERMANY GMBH, FAKTOR 3 AG, FAKTOR 3 LIVE - The Ease of Being Samsung Connected Living Go-to-Market Campaign 2019 - Germany
2nd - WINK & OCTAGON - BUDX Miami - Netherlands
3rd - MCM COMUNICAZIONE S.R.L. - CAMPARI BOAT-IN CINEMA - Italy
Best B2C Event (< €500.000)
1st - WCOM - SamsungZeil, Brand Store Experience Campaign 2019 - Germany
2nd - INSGLÜCK GESELLSCHAFT FÜR MARKENINZENIERUNG MBH - Swarovski Light Festival 2019 - Germany
3rd - CONCEPT X GMBH & CO. KG - Day of German Unity - Germany
Brand Experience
1st - SKUDRAS METROPOLE - Mirror house above the river - Latvia
2nd - M&C SAATCHI MILAN - ZeroZeroZero Store - Italy
3rd - RED DOOR AGENCY - Green Lights for the Champions - Portugal
Cultural, Musical and Sporting Digital/Hybrid Event
1st - MEDIAMONKS - BRIC Celebrate Brooklyn! Festival - United States of America
2nd - WINK - BUDX Amsterdam - Netherlands
3rd - JAD PRODUCTIONS S. R. O. - Dance Academy Live - Czech Republic
Cultural, Musical and Sporting Event
1st - WINK & OCTAGON - BUDX Miami - Netherlands
2nd - LES NOCTURNALES - Bastogne: The roads to freedom - Belgium
3rd - THE DIRECTORATE OF THE SAINT PETERSBURG INTERNATIONAL CULTURAL FORUM - The 2019 Theatre Olympics in Russia - Russia
Digital Transformation
1st - PIANO B SRL - ITS 2020 - HERE WE BELONG - Italy
2nd - XSAGA FESTIVALS - Uitmarkt - Netherlands
3rd - FEELROUGE WORLDWIDE SHOWS - MASERATI MMXX WORLD PREMIERE MC20 - Italy
Digital/Hybrid Brand Experience
1st - FEELROUGE WORLDWIDE SHOWS - MASERATI MMXX WORLD PREMIERE MC20 - Italy
2nd - WINK - BUDX Amsterdam - Netherlands
3rd - FREAKS 4U GAMING GMBH & INSTINCT3 GMBH & ROCKET BEANS ENTERTAINMENT GMBH - Gamevasion - Germany
Digital/Hybrid Meeting Convention & Incentive
1st - HABEGGER / MEDIA APPARAT / FLAVE - RINGANA virtual Convention 2020 - Austria
2nd - SUN EVENT - Discover Servier - Ukraine
3rd - TV CHANNEL FIVE - Russian Film and Television Producers Awards, Virtual Experience - Russia
Educational/Training Event
1st - LES NOCTURNALES - Bastogne: The roads to freedom - Belgium
2nd - TRIUMPH GROUP INTERNATIONAL - Focus LIVE 2019 - Italy
Meeting Convention & Incentive
1st - MILESTONE EVENTS - To the Red Moon - Estonia
2nd - NEXT GROUP - Universo Ferrari - Italy
3rd - ORIFLAME & PS OCCASION - Oriflame 2019 Gold TAA Conference -   Sweden
Non Profit/CSR Digital/Hybrid Event
1st - ATOLYE GRUP - Istanbul Backgammon Tournament - Turkey
2nd - JAD PRODUCTIONS & XLAB REALTIME - Anti-Panic Platform - Czech Republic
3rd - XSAGA - Giro 555: Together in action for Beirut - Netherlands
Non Profit/CSR Event
1st - CONCEPT X GMBH & CO. KG - Day of German Unity - Germany
2nd - HAPPY PEOPLE PROJECT - ŠKODA Goodness Car - Turkey
3rd - EDP – ENERGIAS DE PORTUGAL, S.A. - EDP Surf Experience - Portugal
Proprietary Format
1st - LUKA - Behind the spotlight - Latvia
2nd - SYNAPSY - WE NEVER STOP - Italy
3rd - MKTG SPAIN - Coca-Cola Christmas House - Spain
Use of Digital Technology
1st - NEXT GROUP - Landing on Earth. Everyday. - Italy
2nd - JAD PRODUCTIONS & XLAB REALTIME - Anti-Panic Platform - Czech Republic
3rd - CROP EXPERIENCE AGENCY - Joint Dialogue Forum - Turkey
Use of Technology
1st - NEWU SRL - Dardust's Wearable Live Performance - Italy
2nd - FEELROUGE WORLDWIDE SHOWS - MASERATI MMXX WORLD PREMIERE MC20 - Italy
3rd - 9PM EVENTS AND ENTERTAINMENT - Anything is Possible - Rise in Dubai 2019 - Italy
Virtual Service
1st - JAD PRODUCTIONS & XLAB REALTIME - Direct e-conference - Czech Republic
2nd - ONLIVELINE GMBH - DSDE online – a two day digital interactive event - Germany
3rd - EVENTUM PREMO & TOOLA DIGITAL - Zeen, platform for online events - Russia
Special Prizes
BEST BEA WORLD EVENT AGENCY
1st - FEELROUGE WORLDWIDE SHOWS - MASERATI MMXX WORLD PREMIERE MC20 - Italy
2nd - 9PM EVENTS AND ENTERTAINMENT - Anything is Possible - Rise in Dubai 2019 - Italy
3rd - XSAGA FESTIVALS - Uitmarkt - Netherlands
BEST BUSINESS EFFECTIVENESS
1st - M&C SAATCHI MILAN - ZeroZeroZero Store - Italy
PEOPLE'S CHOICE AWARD
1st - SPECIAL EFFECTS INTERNATIONAL VISUAL EUROPE GROUP BO - LIVE BRANDING AGENCY - #PowerOfLiveEvents - Hungary
PRESS AWARD
1st - CREATIVE PRO - TFROMHOME - Slovakia
SPECIAL MENTION FOR BEST CREATIVITY
1st - NEWU SRL - Dardust's Wearable Live Performance - Italy